LOGIN WINDOWS 7 WITHOUT PASSWORD
Sometimes you really get sick of entering password on between administrator on windows 7. Here's a trick which will allow you to login without entering Username and password.
You can disable this feature :
By doing this trick each time you start ur pc it will automatically login to your account.
Note
: This trick will not work If you only have one user account that is not password protected on the computer, then Windows 7 will automatically log on to that account at startup.
It should have more than one account.
Note
: This can only be done while logged on to an administrator account. It cannot be done from within a standard account.
The trick start from here :
1) Click on Start. U can see there ' search programs and files '
2) Type in there only this ' netplwiz '
3) Then u will get the search result as above with the same word netplwiz Click on it
4) Now u will see 2 accounts. One standard Account and Another Main Administrator account it may 2 or 3 it can be different as accordingly ur computer
5) Name can be anything in the above image the administrator is Willie it is written on the right side & and the standard account is home group user & the other one.
6) Click on HomeGroupUser (as ur computer name has been set) i.e is a standard account.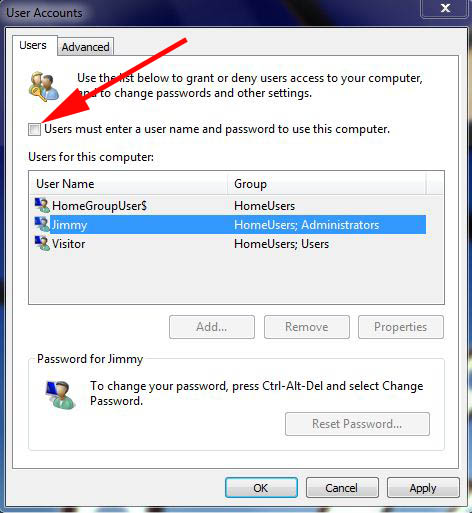 7) Check the option where it is written ' User must enter a user name and password to use this computer '
See the arrow. on the left side.
8) And then click on the administrator account and
Unchecked the same option it is been check there
9) It will ask for password and user name enter it.
(
if u don't want the password the leave it blank
)
10) Click on OK the Apply
The trick is done Windows 7 will now automatically log your user account in the next time you boot up.